METAL PREP

First things first... PPC has metal prep options based on the starting condition of your items. 
 
For previously painted items, PPC (that means Geno) will carefully sandblast your item to bare metal, but we do ask that you remove any components that are NOT metal.  This means rubber feet, hoses, wooden legs or braces, plastic knobs, handles, attachments, or inserts, material of any sort, and metal-look decals.
 
For new metal, PPC will clean your item with a solvent to degrease or de-blue metal or will wipe it down with a cloth designed to remove dust and dirt and reduce static.
 

HANGING
The next step is to hang everything up.  After the metal is fully prepared for paint, PPC (likely Laura) will hang your items on racks designed to properly conduct electricity in order to ensure the ionized powder adheres to the item being painted, minimizing overspray, waste, and color blending/bleeding.
 
PAINTING
After your item is hung and moved into the paint booth, PPC (now it's Rob's turn) will will apply your custom color using a specially desgined "gun" that ionizes the powder particles and allows Rob to apply an even coat of powder that will bond with the metal.
 
BAKING:
In order to form that perfect bond of powder and metal, your item will be transferred into the PPC oven, which bakes the paint at around 400 degrees.  Some powders and finishes require 2 or 3 trips to the oven, and some require higher or lower temps, but everything takes a trip to the oven.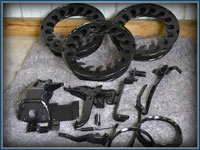 COOLING and QC
After your item is baked and cooled, Rob performs a final Quality Control inspection to make sure the coating is even, at the proper thickness, smooth (or wrinkly, hammered, metal-flaked), and continuous. 

Now your one of a kind, uniquely yours, custom-coated item/toy/tool/equipment is ready for pick up!