Rob Bonino is a proud Army Officer who lives and works in Pee Dee, Kentucky, a rural farming community near Fort Campbell where he has served our country as an active duty Army Helicopter Pilot. Rob is a UH-60 Blackhawk Maintenance Test Pilot and is newly retired after over 21 years of service including overseas assignments to Germany and Korea and deployments to Macedonia, Bosnia, Iraq, and most recently to Afghanistan in support of Operation Enduring Freedom.
Rob is joined in the PPC work by his brother, Gene (Geno), who relocated to Kentucky a few years ago because he was looking for a "less harsh" climate. We forgot to tell him that fall, winter, and spring might be less harsh than Michigan, but he would have to "Pee Dee Up" to handle the summers after living his entire life way up North! Geno's wife, Laura, also holds her own in the business by moving literally tons of products by hand while the boys get to stand around and sandblast or paint.......(you're welcome, Laura!)

PPC is truly a small business centered around a family's hard work.

Rob grew up farming beef cattle in Michigan and as such, learned to repair and overhaul many different types of tractors and farm implements in order to keep the farm moving forward. He has also been elbow deep in pulling tractors since 1999 and pulls a Case/International Harvester as a member of the Midsouth Pullers Association of Western Kentucky, Tennessee, and Alabama. He has invaluable automotive skills and an extensive maintenance background, from John Deere Farm tractors to Army helicopters to high speed pulling tractors. He understands and lives by the concept that prevention and routine maintenance are far more rewarding than repair and replacement!
We opened our doors as Professional Powder Coating in 2005 with one 4' x 4' x 6' oven (plus a smaller, household oven rescued from an old local Methodist Church to cure small parts) and quickly realized the need for greater capacity and capability:
- The first oven was quickly enlarged to 10' long to accommodate the longer ATV and motorcycle frames.
- We realized a regional need to satisfy a greater range of customers which included the need for medium scale production runs and on-site metal preparation. We found this opportunity in the fall of 2009 and acquired two additional ovens, one with an internal space of 8' x 8' x 20', capable of handling almost any individual customer need and providing the space for efficient limited production runs.
- Additionally, we added an 8' x 8' x 18' paint booth with internal air filtration as well as an industrial media/sand blasting enclosure that reduces customer costs and turn around time by allowing PPC to do the metal prep on site rather than transport products off site.
- We also have the capability to conduct on site minor welding repairs if needed.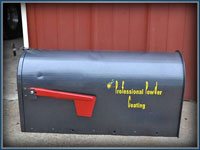 PPC was founded on the desire to bring quality workmanship, honest deals, and true value to customers looking for Powder Coating services. PPC has high standards when it comes to business and we believe that our word is our bond. We know that those who work hard and play hard need their equipment to work hard and play hard right back. This is why you deserve the guaranteed work from a company that understands and can give you the tough custom colors you want to protect the toys you love. You can expect to be treated fairly and to receive only quality workmanship. In all cases, we will discuss your specific needs to ensure the end results meet your desires. We strongly believe in the old saying, "If you are not satisfied with our service, let us know. If you are satisfied, let everyone else know."